About This Course
Graphic Design is all around us! Words and pictures—the building blocks of graphic design—are the elements that carry the majority of the content in both the digital world and the printed world. As graphic design becomes more visible and prevalent in our lives, graphic design as a practice becomes more important in our culture.
Through visual examples, this course will teach you the fundamental principles of graphic design: imagemaking, typography, composition, working with color and shape… foundational skills that are common in all areas of graphic design practice. I don't just want you to watch a video of someone talking about design, I want you to MAKE design! If you want to be a designer you have to be a maker and a communicator, so this course will offer you lots of opportunities to get your hands dirty with exercises and with more practical projects.
Learning Objectives
Learned how to explore and investigate visual representation through a range of image-making techniques
Understand basic principles of working with shape, color and pattern
Been exposed to the language and skills of typography
Understand and have applied the principles of composition and visual contrast.
Requirements
Beginner's level knowledge of Adobe Creative Suite programs, such as Illustrator, Photoshop and InDesign
Target Audience
Anyone interested in graphic design
Your Instructors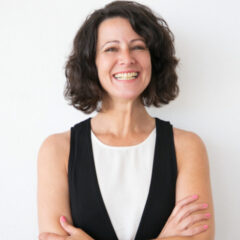 Nahla Jones
Master's Degree
She is TEFL certified and has been teaching English since 2008. She has helped over 3000 students worldwide improve their English and hopes to help you as well. Culture and languages have always fascinated her which is why over her lifetime, she has studied French, Spanish, Italian, Mandarin, and Swahili. She understands the struggle of trying to learn a new language which is why she always tries to make her lessons interactive and yet full of valuable content so you can improve as quickly as possible.
See more